Nominations for the search for the Outstanding Professional of the Year Award (OPYA) organized by the Professional Regulation Commission (PRC) is open.
          The Outstanding Professional of the Year Award is the highest recognition conferred by the commission to individuals who excelled and contributed significantly to society considering their professional line of work. Attached in this correspondence are the guidelines for the search, along with the documents to be accomplished. All these shall be turned in to the PNA National Office on in these mechanisms:
electronic copies to emailed to

This email address is being protected from spambots. You need JavaScript enabled to view it.

with the subject line, OPYA Nomination_<name of the nominee>_<region> on or before June 16, 2023; and
eight (8) sets of printed copies via courier on or before June 20, 2023. Address the mail to
          SCREENING COMMITTEE
          Committee on Awards and Scholarship
          Philippine Nurses Association, Inc.
         1663 F.T. Benitez Street., Malate, Manila 1004
          For any inquiries, please coordinate, Ms. Sherell Tabafunda and/or Ms. Alona Jane Navarro, General Manager and Program Coordinator, respectively. You may reach them on any of these means:
   -  Mobile:  0919-0857360
   -  Office line: 7001-9859
   -  Email: This email address is being protected from spambots. You need JavaScript enabled to view it.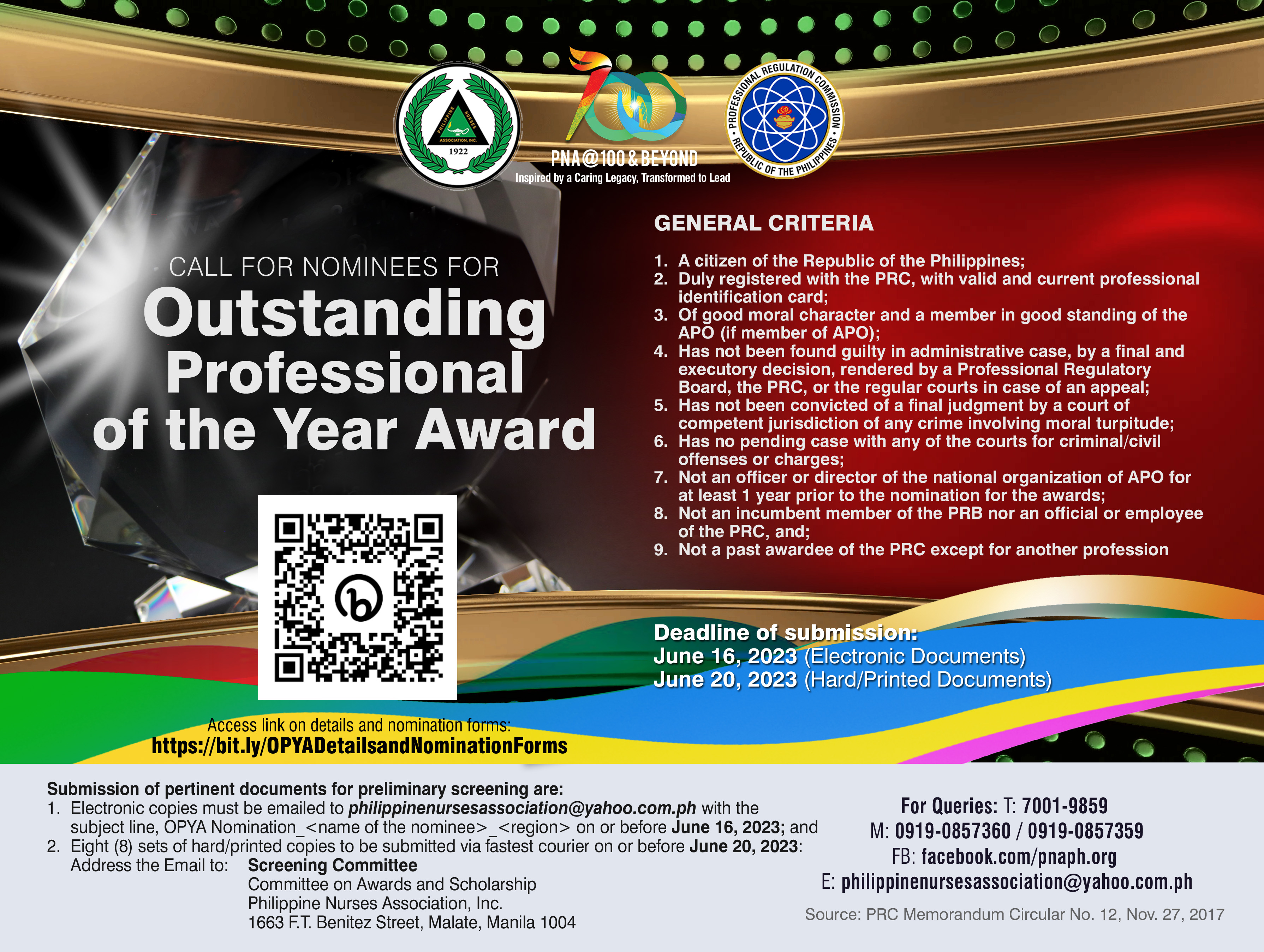 Attachments
https://bit.ly/PNACallforOPYANominees2023
https://bit.ly/PRCResolution2023-1625
https://bit.ly/OPYAAnnexA-NominationForm
https://bit.ly/OPYAAnnexC-ProposedCitationForm